Professional Ethics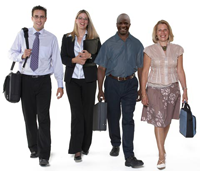 Our consultants and other staff members adhere to a strict code of professional ethics:
Information received from clients is treated with the utmost care and discretion and will not be divulged without the approval of the appropriate party
The identity of clients and candidates is never revealed without prior consent
The number of clients in any industry is limited and similar assignments for competing companies are not accepted at the same point in time in the same country
Executives and staff of client companies are not approached for at least a 12 month period after the completion of the last assignment undertaken for the client
Only those executive search assignments will be accepted that in our view can be solved in a cost effective way through our systematic approach
We always continue to work on an assignment until a satisfactory solution to the problem has been found
We guarantee our client a replacement if a hired candidate leaves within an agreed guaranteed period
We only charge to our clients those assignment expenses that can justifiably be referred to a specific assignment
Commission payments to client executives are never offered nor agreed. Commission payments from potential candidates are not accepted.
Ethic is our priority.